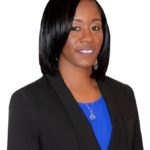 June Allen-Smith is a real estate agent born and raised in Chicago, IL and has lived all over the world, recently returning to the Chicagoland area in 2019. The connections she's made has bred much success in real estate. She purchased her first home at 22 years old and has purchased and sold several more over the years. She invests and rehabs properties with her partners at Chief's Corner, LLC
June is a top producing agent with CarMarc Realty Group who promises to provide clients with an exceptional real estate experience. As a dual career agent she sold nearly $5 million in real estate in 2021!
June is a Combat Veteran who served for over 20 years as a Logistics Officer in the U.S Army. This background has given her a wealth of experience in organization, customer service, communication, teamwork, problem solving skills and investing in long lasting relationships. Her experience has taught her patience, flexibility and how to remain calm under pressure; all critical in the typically time consuming and stressful real estate transaction.
Being from the South Side of Chicago, June realized that not enough people were educated on home ownership. Throughout her travels around the world, she gained an appreciation for financial education therefore she now feels it is her duty to educate and assist those desiring a home to accomplish their goals. She is a member of many professional organizations and is extremely active in the communities she serve.
June has a Masters of Human Services from Liberty University. She also holds a Bachelors in Business Administration from Campbell University. She holds the Pricing Strategy Advisor, At Home With Diversity and several other national certifications and credentials in order to remain extremely well rounded and relevant. She has a passion for learning and a genuine concern for people, two attributes that are crucial to the success of a real estate professional! She is the 2023 President of Women's Council of Realtors-Three Rivers and serves on the Joliet Pride Network Board of Directors.
June enjoys traveling and spending time with family. She resides in Shorewood with her wife Tiffany and three boys; Aiden, Jayden and Brandon.
June is ready to assist you with your home buying and selling goals. Click now to begin your home search and to contact June.
Phone/Text: 815-995-9786